Government targets 11,000 professional counsellors by 2020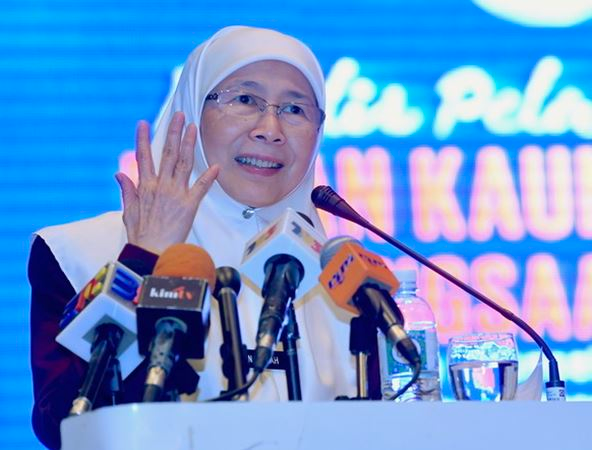 PUTRAJAYA, Oct 1 (Bernama) -- The federal government targets to have 11,000 professional counsellors by 2020, said Deputy Prime Minister Datuk Seri Dr Wan Azizah Wan Ismail.

She said this was due to the increasing role of counsellors and counselling services especially in the era where the people were becoming more stressed in their life.

Dr Wan Azizah, who is also Women, Family and Community Development Minister, said as of Aug 31, there were 8,039 counsellors registered with the Board of Counsellors, with a counsellor-population ratio of 1:4,030.

"The difference is too wide to meet today's increasingly complex social issues, so the target of 11,000 counsellors by 2020 will enable the ratio of one to 2,945 people.

"Therefore, I urge each counsellor to be registered with the Board of Counsellors and to improve their skills through the continuing professional development (CPD) programme, so that more people will have access to the counselling service," she said after launching the National Counselling Month here today.

Dr Wan Azizah said the 2015 National Health and Morbidity Survey by the Ministry of Health found that the prevalence of mental health problems among Malaysians, aged 16 and above, was 29.2 per cent or 4.2 million people.

"This means one in three Malaysians is experiencing issues related to mental problems.

"The same study conducted last year on the health scope of youths showed that anxiety (39.7 per cent) followed by depression (18.3 per cent) and stress (9.6 per cent) were among the three major mental illnesses among pupils," she explained.

She said the Board of Counsellors had created the Guidelines to Family and Marriage Counselling Services as a reference to handling family issues such as abuse, domestic violence, divorce, neglect and so on.

"I am confident that with such guidelines, it will assist registered counsellors to provide the best counselling services to the community. It is important for family problems to be addressed at the early stage," she said.

Meanwhile, Dr Wan Azizah said the Board of Counsellors had set up the "Tabung Ehsan Waris Kaunselor Berdaftar" to appreciate the services of registered counsellor who had passed away.

For starters, the board has contributed RM10,000 to the fund, and each beneficiary will receive cash assistance of RM1,500.

-- BERNAMA