IJN urges all organisations to set up CPR teams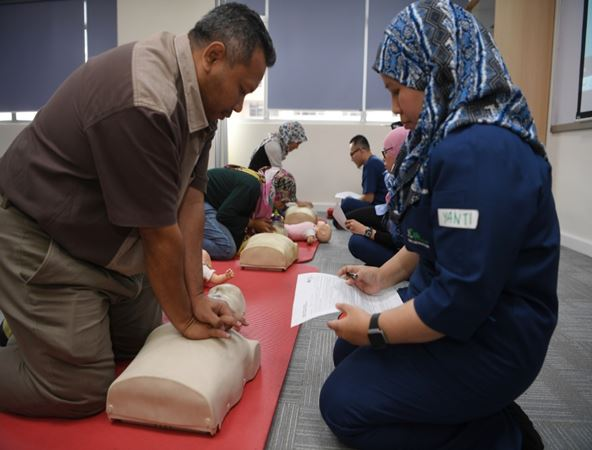 KUALA LUMPUR, Oct 8 (Bernama) -- Each organisation including companies with a large number of employees are advised to set up a Cardiopulmonary Resuscitation team (CPR) to provide initial emergency aid.

National Heart Institute (IJN)'s CPR Faculty director, Datuk Seri Dr Azhari Rosman said the CPR team is important because multiple risk factors leading to heart attacks are generally detected at the workplace.

"Often workplace stress, quality of lifestyle and age greatly influence risk factors, and we spent more time at the workplace. Hence, it is important that employees have the skills to perform CPR and on how to use an Automated External Defibrillator (AED).

This is because logistical factors can make it difficult for specialists to arrive on time, especially if the office is located in a congested area or far from the hospital," he told the media after the Heartsaver CPR-AED Course with the Media at IJN here today.

Some 13 media practitioners from various publications who attended were given exposure and demonstrations on the correct technique of performing CPR and on using an AED on adults and infants as well as on how to give early aid for choking victims.

Dr Azhari said there were many hospitals but IJN itself often conducts CPR-AED awareness courses for the community and this opportunity can be best utilised by organisations to work together to train their staff.

"This course is a part of the corporate social responsibility (CSR) programme of the hospital in promoting awareness about CPR but the number of organisations involved is still small, especially the involvement of companies with large numbers of staff.

According to Dr Azhari, deaths from heart attack can be avoided by getting early aid if more people know how to perform CPR and use the AED especially when there are colleagues with a history of cardiovascular disease.

Meanwhile, he said it was time for schools and higher learning institutions to make CPR skills and training a compulsory co-curriculum which students must follow throughout their duration of study.

"It's very sad because less than 10 per cent of Malaysians know about CPR when it's something that's very easy to learn and do, including by Year Three students.

"Therefore, the easiest way to raise awareness about the importance of CPR skills is to start from the grassroots and continue on a consistent basis at learning institutions and at the workplace," he said.

-- BERNAMA