Dr Wan Azizah reminds volunteers in relief missions to prioritise own health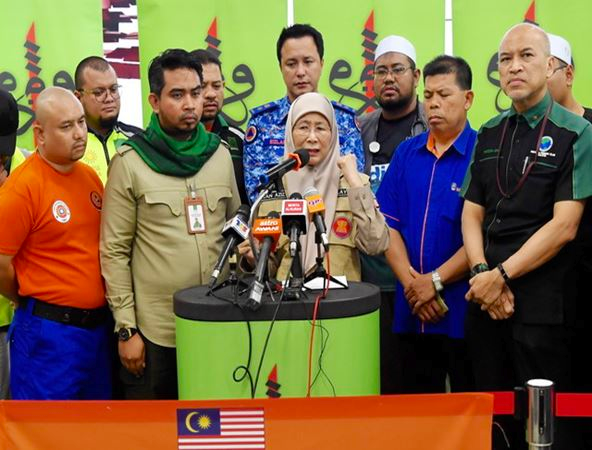 SEPANG, Oct 14 (Bernama) -- Deputy Prime Minister Datuk Seri Dr Wan Azizah Wan Ismail today reminded volunteers in relief mission to Central Sulawesi, Indonesia, to prioritise their own health when in disaster-stricken areas.

She said this being that they were exposed to the risk of infectious diseases such as malaria, which normally spread after a catastrophe.

"Apart from providing assistance to those hit by the disaster, volunteers should also take care of their own health.

"They should be wary of malaria as the disease normally spread after an occurrence of natural disasters," she said at the flagging-off of the Sulawesi Emergency Aid Mission at the Kuala Lumpur International Airport (KLIA) here today.

The relief mission involved 41 volunteers under the Malaysian Consultative Council for Islamic Organisation (Mapim), led by its chief executive officer Dr Ahmad Sani Araby Al-Kahery.

Wan Azizah said not everybody would be willing to become volunteers to areas worst affected by a disaster, except the highly-committed ones as it required high-level of commitment, fortitude and resilience due to the challenges in performing their task.

Hence, she said, the government was highly grateful and appreciated the role played by organisations that mobilised aid missions, including Mapim, which had already sent its mission soon after the earthquake struck on Sept 28.

This humanitarian effort also received praised from Indonesian President Joko Widodo and the people of the republic, she said.

Thus far, the devastating earthquake and tsunami that struck the island of Sulawesi has killed over 2,000 people, with an estimated 152,000 victims still missing.

Meanwhile, Ahmad Sani said Mapim's second mission, comprising volunteers from the Malaysian Defence Force (APM) and the Malaysian Islamic Consumers Association,aimed to distribute 3,000 food packs to 3,000 families.

The mission, expected to be in Sulawesi until Oct 25, also brought along other essential items, including milk and baby diapers, he said, adding that as of today, Mapim has managed to raise RM500,000 from the target of RM1.2 million.

-- BERNAMA