A mother appeal aid for 6-months-old son with stoma, heart problems, cataract, down syndrome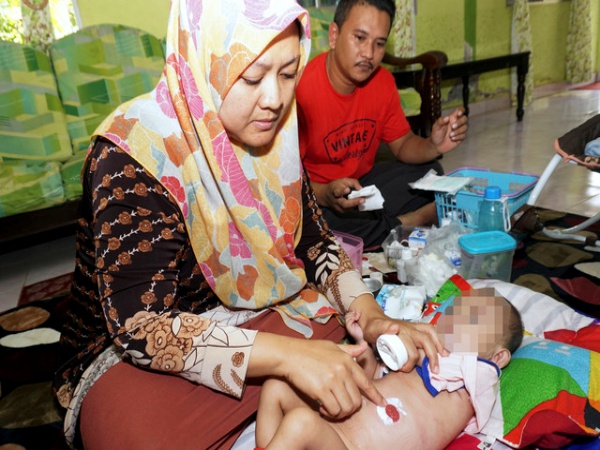 YAN, Oct 25 (Bernama) – He was born with Down Syndrome, various heart problems, cataract on both eyes and imperforate anus (without anal opening).

Those are the conditions suffered by six-month-old Muhammad Rezfan Mohd Fazli, the youngest of four children of Zuraidah Azlinda Mehad, 34, and Mohd Fazli Muhammad Redzuan, 34, from Kampung Pulau Mas, Simpang Tiga, Sungai Daun near here.

Zuraidah said unlike other children, her son had an intestinal opening at his abdomen (stoma) from an operation when he was only two days old to allow him to defecate.

"I am very sad seeing Muhammad Rezfan's condition as he did not have an anal hole and also suffered from a narrowed main blood vessel of the heart as well as a hole in the heart. His heart valve received non-oxygenated blood while his heart was leaning more to the right," said the mother when met by reporters at her home.

Zuraidah said for the moment she and her husband need to focus in particular on preventing complications or heart attacks before a heart surgery could be performed when her son's weight reaches 10 kilograms.

"Heart surgery could not be done until his weight reaches 10 kilograms while the operation for eye cataract will be performed at the Hospital Kuala Lumpur next month which would definitely cost a lot," she said.

She was very worried in regards to the financial matter too as her income as a Kelas Al-Quran dan Fardhu Ain (KAFA) teacher is only RM850 a month which is just enough to buy the special milk, eating tube and disposable diapers for Muhammad Rezfan which could cost up to RM800 a month.

"This does not include the expenses for my two other children aged 12 and six who are in school. I felt our lives are so difficult and pressured as my husband had to quit his job to focus on him, that we had to decide to move in with our parents for the time being," she said.

Her husband, Mohd Fazli said he had to go frequently to the Hospital Sultanah Bahiyah in Alor Setar to care for his wife who often needed to be admitted into the ward due to liver inflammation and bleeding prior to giving birth to Muhammad Rezfan.

"After he was born, we were told he faced various heart problems and other illnesses that I had to go to the hospital almost every week and quit my job.

"We need to attend to him all the time to feed him with milk through the tubes, clean the outer intestine (stoma) and make sure he is not startled or suffers a heart attack, while my wife cannot drive thus she cannot rush our baby to the hospital if something happens," he added.

Mohd Fazli, who used to work as a security guard, said they were very hopeful for any help to ease their hardship in meeting their baby's need.

Those who would like to help could contact Mohd Fazli at 014-6781582 / 016-9082423 or donate via Zuraidah's BSN bank account (0213829000035611).

-- BERNAMA