Pharmacist - An Underrated Profession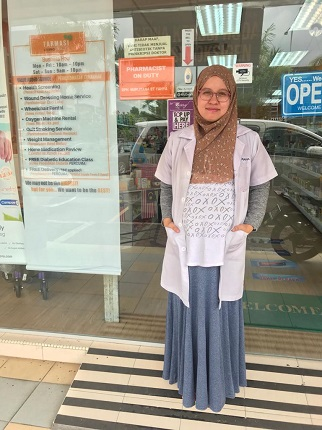 Pharmacist Nurliyana Yahya. --fotoBERNAMA (2018) ALL RIGHTS RESERVED


By Ainul Huda Mohamed Saaid

KUALA LUMPUR (Bernama) -- Society often overlooks the role of pharmacists.

Isaac Danker, 26, from Seremban knows this all too well despite being only a year into the profession.

The pharmacist, currently attached with a public hospital in his hometown, told Bernama among the misconceptions he has encountered was that many saw him as merely a face behind the counter, dispensing pills.

There are also those who mistake him for a doctor, probably because as a pharmacist, he wears a white coat too.

The Cyberjaya University College graduate, however, still loves his job and believes that pharmacists can contribute a lot to the community through primary health care.

Retail pharmacist Nurliyana Yahya, 28, echoes Isaac's sentiment.

She had encountered many who did not trust her knowledge in medicine and thought that she worked under a doctor's supervision.

"Yes, we are not the ones who do the diagnosis; doctors do, but we do have better knowledge when it comes to medicine.

"We work together with the doctors not under them," said the Universiti Teknologi Mara (UiTM) graduate.

Nurliyana resigned from her job at a public hospital in Kajang last year to open a pharmacy in the same district with her three friends.

Now that she has to meet with customers every day, she finds that there are also those who have high expectations from their pharmacists.

"They are those who overestimate (our capabilities). They thought their illnesses can simply be treated with medicines but without seeing the doctor.

"They ask for medicines that we cannot prescribe such as antibiotics. Maybe they prefer to come to us because our consultation is free compared to doctors," she said, adding that as community pharmacists, they have the responsibility to help the community in getting a good healthcare, not to just do business.

She has learned, through experience, that in order to provide the best service, community pharmacists need to be able to gain people's trust.

"Sometimes when we suggest something different than what they normally take, they don't trust our assessment and assume we were just trying to sell them a new product.

"The truth is that the suggestions we make is because we saw that the medicines they were taking were not effective for them, or that there was a better alternative with lesser side effects," she explained.

UNDERSTANDING PHARMACISTS' ROLES

The Malaysian Pharmaceutical Society (MPS) president Amrahi Buang lists three important roles played by pharmacists, namely, as the medicine expert, the guardian of the medicine, and as a healthcare provider.

Pharmacists specialise in medicine and are responsible in providing medicine that are of quality, safe as well as efficacious, thus helping protect the community from the potential side effects of the medication they need to take.

"For example, if people are sick they will go to a clinic and seek a doctor. Similarly, if they want to know anything about medicine, they must go to a pharmacy and consult a pharmacist," said Amrahi.

However, majority of people do not fully understand what a pharmacist does. This is evident by the common practice of buying medicine from a pharmacy without consulting the pharmacist on duty.

"What is happening now is that they will just go to the shelves and take the packet of whatever they want, then go to the cashier and pay," he said.

He suggested the process to be disrupted with one simple question, which is "whom is this medicine for?"

He said that if pharmacists could get the chance to communicate with the customer, they could provide them with a consultation and that would help the customer in getting not only efficacious but cost-effective medicine as well.

Some of the follow-up questions that a pharmacist will ask are "why do they need the medicine?", "what symptoms do they experience?" and "how long has the sickness been going on?"

Amrahi cited the example of a person who always gets headaches and continually consumes paracetamol.

Paracetamol is a highly common drug used to treat fevers and aches that is easily available in pharmacies and can be bought without prescription.

"What if what the person is actually suffering from are migraines? Migraines cannot be cured by paracetamol and this person is consuming the drug unnecessarily. This shows how important the role of pharmacists are," he explained.

He added many people also did not know that under the law, pharmacists are allowed to prescribe group C poison for the three regular symptoms; cough, cold and fever; other simple medicines such as creams for skin diseases, as well as supplements.

Besides dispensing medicines, pharmacists also work in other sections of a hospital or health centre, namely in the inpatient unit managing the medicines supply for the wards, in the therapeutic drug monitoring (TDM) section, in the total parenteral nutrition therapy (TPN) section, in the drug information service (DIS) which is the reference centre for doctors as well as public, and in the cancer drug resistance (CDR) unit.

They are also clinical pharmacists who work with doctors in deciding prescriptions and monitoring medicines for patients, pharmacists who manufacture the medicines which involve the process of getting the right formulation, those who work in the industry and retails, as well as pharmacists who become researchers and educators.

PROMOTING PHARMACISTS' PART TO THE SOCIETY

MPS, as the main pharmacists' organisation in the country, has been constantly promoting the roles of pharmacists to society.

"One of the things we did was to celebrate World Pharmacists Day in a big way.

"We started in 2014 and now we have grown. This year all the states are having their own World Pharmacists Day celebration. The awareness is building,"Amrahi said.

The World Pharmacists Day is celebrated on Sept 25 every year and this year's theme is "Pharmacist: Your Medicine Experts."

Meanwhile, Nurliyana believes that the best way to spread awareness is through the social media.

Among others, she suggested pharmacists to share verified information regarding medicines or any related topics with netizens, including explaining the job scope of a pharmacist.

For community pharmacists, she said it was vital for them to gain the community's trust and understand their needs.

This can be done by organising talks or community events that enable the pharmacist to communicate with the society.

Isaac opined that pharmacists who serve in the community should work together with other healthcare professionals, especially the doctors, in achieving a particular objective regarding a disease or any health-related issue affecting the community.

"As a consequence, we will be able to see an impact or outcome for this continuous provision of care which prevents the burden on the cost of healthcare on the tertiary level," he said.

He said more emphasis was needed for primary health care in Malaysia as it helps in preventing high risk diseases, eventually reducing the cost of medication.

"Pharmacists on the other hand can play a more vital role in preventing the progression of patient's diseases through various services such as Medication Therapy Adherence Clinic (MTAC), smoking cessation programme, home medication review, and many more," he said.

Edited by Sakina Mohamed

-- BERNAMA