Childhood Obesity A Growing Health Crisis In Malaysia

UM Specialist Centre (UMSC)'s Paediatric Endocrinology Senior Consultant Associate Professor Dr Muhammad Yazid Jalaludin. Pic: Iskandar


By Jenny Imanina Lanong Abdullah and Murni Nasri

KUALA LUMPUR, (Bernama) -- Farhan (not his real name) was sent to a private hospital by his parents to seek treatment for the infection on his right leg.

For a healthy 12 year-old child, medications and after care should be enough to get him on his feet again.

However, Farhan was far from healthy.

His weight at that time was more than 100 kilogrammes.

Farhan was then referred to a government hospital to treat the complications that had risen due to his obesity.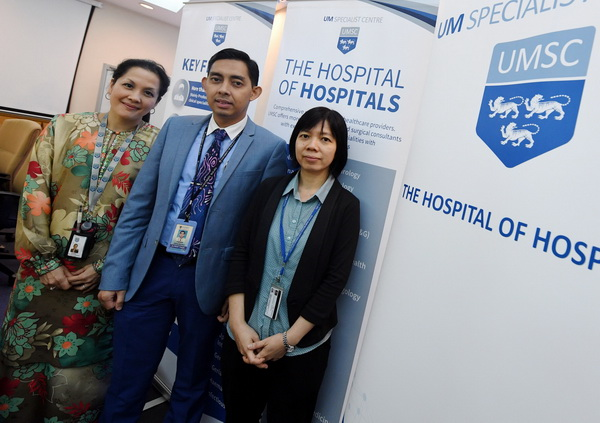 University Malaya Specialist Centre (UMSC)'s Head of Dietetic Services and Clinical Dietitian, Rozanna M.Rosly (left), Paediatric Endocrinology Senior Consultant Associate Professor Dr Muhammad Yazid Jalaludin and Paediatric Respiratory and Sleep Medicine Specialist, Dr Eg Kah Peng (right) during an interview with Bernama at UMSC, recently . Pic: Iskandar
Sadly, due to his weak heart, Farhan lost his fight and passed away at a tender age of 12.

CHILDHOOD OBESITY AND PARENTAL OBESITY

According to World Health Organization (WHO), the prevalence of childhood obesity has increased at an alarming rate where globally in 2016 the number of overweight children under the age of five is estimated to be over 41 million.

A 2010 study published in the International Journal of Environmental Research and Public Health cited that the common non-modifiable cause of obesity is genetics, with greater risk of obesity found in children of obese and overweight parents.

According to UM Specialist Centre ( UMSC ) Paediatric Endocrinology Senior Consultant Associate Professor Dr Muhammad Yazid Jalaludin, children with at least one overweight parent are bound to have a four to five fold greater chance of becoming obese adults.

"If one parent is overweight the chance of the child to be obese is four to five times more, and worse still if both parents are overweight the risk is 13 times more," he said in an exclusive interview recently.

He added that based on the 2011 National Health and Morbidity Survey (NHMS), among the Southeast Asian countries, Malaysia is on the top of list with the highest population of adults with obesity, which is 44.2 percent.

The number shot up to 47.3 percent in 2015.

Looking at the statistics closely, among the child bearing adults (aged 30-35 years old), 34.2 percent are overweight and another 30.5 percent are obese.

This in itself, is a worrying trend but what is more disturbing is that these same adults are also parents to growing children or parents-to-be.

CHILDHOOD OBESITY DEFINED

The 2013 South East Asian Nutrition's Survey cited that 21.6 percent children between six months and 12 years old fell under the overweight or obese category.

According to a study in the child and adolescent study in Asia conducted by Poh et al in 2013, Malaysia is one of the top three countries with a high percentage of obese children (between six months to 12 year old), 11.5 percent.

In the 2015 NHMS, 11.8 percent of children below 18 years old are found to be obese.

"With this latest data, 1.65 million Malaysian school children are expected to be overweight or obese by 2025, if we don't do anything," said Dr Muhammad Yazid.

Breaking up that enormous number, 88,000 of Malaysian children will have impaired glucose tolerance, 28,000 will suffer from Type 2 diabetes, a whopping 191,000 will have high blood pressure and 264,000 will suffer from first-stage fatty liver disease.

Body Mass Index (BMI) is a measure used to determine childhood overweight and obesity.

However, unlike the adults, for children, overweight is defined as a BMI at or above the 85th percentile and below the 95th percentile for children and teens of the same age and sex as plotted on the World Health Organization (WHO) BMI chart.

Meanwhile, obesity in children is defined as a BMI at or above the 95th percentile for children and teens of the same age and sex.

According to Dr Muhammad Yazid, childhood obesity can also be determined by the measurement of a child's waist circumference.

"Based on a study conducted by Prof Poh Be Koon in 2011 on our Malaysian children, Malaysian boys from the age of seven years old have a waist circumference at the 90th percentile, which is larger than the children of the same age, same gender in the United Kingdom, Hong Kong, Turkey and Australia," said Dr Muhammad Yazid.

The study involves more than 18,000 children in Malaysia aged between six to 18 years old.

NOT A CONDITION BUT A DISEASE

Dr Muhammad Yazid said according to the latest Southeast Asia Nutrition Survey (SEANUTS) for children six months to 12 years old, 21 per cent of them falls under the overweight or obese, where the number of boys are higher than [P2] girls.

"We used to say that the Malays and Indians have higher prevalence of obese children but based on a recent MyBreakfast study, the Chinese children are now leading the pack," he added.

Dr Muhammad Yazid also noted that childhood obesity in America mainly involves the lower socioeconomic children since these are the ones whose parents do not have enough money to buy nutritious, low calorie foods.

However, in developing countries like Malaysia, childhood obesity is prevalent among both the rich and poor families. The poor families may not have enough money, hence consume the less nutritious but high calorie foods which are usually cheaper, while the rich families can afford to buy food, sometimes make the unwise decision of buying the wrong kinds of food (high calories).

This results in the two-fold increase of childhood obesity from the 2011 where 5.8 per cent of children were obese to that of the 2015 survey where the figure escalated to almost 12 per cent, in a span of five years.

Judging from the current statistics, and the co-morbidities, obesity among children is definitely a disease and not just a condition, as it was previously known as, said Dr Muhammad Yazid.

IMPLICATIONS OF CHILDHOOD OBESITY

WHO notes that childhood obesity is associated with a higher chance of premature death and disability in adulthood.

Overweight and obese children also run a higher risk of developing non-communicable diseases such as diabetes and cardiovascular diseases.

Dr Muhammad Yazid noted that the rapid rise in obesity among Malaysian children is definitely disturbing because overweight children are at a higher risk of becoming obese adults.

They are also susceptible to developing serious health problems such as Type 2 diabetes, high blood pressure and liver disease, not to mention issues with cholesterol which will result in cardiovascular diseases, hypertension as well as insulin resistance.

Insulin resistance syndrome is a constellation of risk factors for the development of Type 2 diabetes mellitus and cardiovascular disease.

"I have run paediatric obesity clinic since 2006 and throughout that 13 years' experience, I have witnessed children who have been inflicted with Type 2 diabetes as young as 12 years old," Dr Muhammad Yazid said.

He cited a case of a seven year old obese child, who was initially admitted because of dengue.

Due to his weight, the child was brought to the obesity clinic where he was scheduled to see a dietitian, a sports medicine specialist and a sleep specialist.

The child defaulted his follow-up after a few clinic visits.

Six years after the initial visit, he came back to the clinic, with Type 2 diabetes.

According to Dr Muhammad Yazid, more than five years ago, out of 10 children, eight were diagnosed with Type 1 diabetes and the remaining, Type 2.

The number has escalated in the last five years where out of 10, five of them now have Type 2 diabetes.

"This is because they are super obese, we have a seven year-old child who weighs 70 kilogram and a 12 year old who weighs 100 kilogram. Most of the cases that come to our clinic were not because of their willingness, but for other reasons such as asthma or dengue, hence the not so good outcome. We also have kids who lost good amount of weight, and this happens mainly due to the parents initiative" he added.

SLEEP PROBLEMS

Apart from a host of serious diseases, obesity is also one of the main causes for obstructive sleep apnea (OSA) and hypoventilation syndrome in children.

In a study on childhood obesity and obstructive sleep apnea, published in the Journal of Nutrition and Metabolism 2012, Indra Narang and Joseph L. Matthew cited that OSA occurred in up to 60 per cent obese children.

They also noted that OSA is characterised by snoring, recurrent partial or complete obstruction of the upper airway.

"In obese children the airway becomes narrower because of the increased fat around the neck and this results in repeatedly cessation of breathing during sleep due to airway obstruction. This is termed OSA."

"When they have too much fat around the abdomen and the chest, their breathing becomes restricted by the fat which in turn results in shallow breathing during sleep that we call hypoventilation," said UMSC Paediatric Respiratory and Sleep Medicine Specialist, Dr Eg Kah Peng.

Dr Eg said sleep-disordered breathing may cause a child to have too little oxygen and too much carbon dioxide in his/her blood during sleep which as a consequence would affect the health and quality of life.

Parents may find their children suffering from this sleep problem often snore loudly during sleep and difficult to wake up in the morning, apart from complain of headache and daytime sleepiness.

"Some of them would fall asleep even while just sitting down during the day if the sleep problem is severe" said Dr Eg.

Dr Eg added that the long term lack of oxygen in blood can also result in heart failure and early deterioration of memory. There were studies reported that older adults who have OSA were at higher risk of suffering from Alzheimer disease.

There are medications and medical devices to treat and to alleviate the symptoms of OSA and hypoventilation experienced by these patients thus improve their sleep quality and prevent complications.

"But the most important step is getting back to the root of the problem, that means patients need to lose weight or else they will have to rely on these medications and devices forever," Dr Eg advised.

Dr Eg shared about a case of a very obese boy who passed away out of sudden in his sleep. He was diagnosed by doctor to have severe OSA and was advised for treatment. However, his parents were not keen and defaulted follow up.

"The parents did not want to try, saying that the child refused treatment and it was also inconvenient for them to come to hospital for regular follow up.

"Sadly, by the time they brought the child in, he was already not able to be revived," she said.

EDUCATING THE PARENTS

Parents should play an active role in the effort of putting childhood obesity in check therefore educating the parents and care givers are the utmost importance, for prevention and management, said UMSC Head of Dietetic Services and Clinical Dietitian, Rozanna M.Rosly.

They should be made aware of the importance of balanced diet according to their children's age and gender, essential nutrients to promote optimal growth/development and regular physical activities for their children.

"Parents tend to say that their children are 'active' and my question would always be how often and how long/ 'what types of exercises that your active child do?'.

Being active is just half of the story because parents should also focus on the total calories/fat/protein/other essential nutrients intake per day that is required according age and gender for the child, Rozanna added.

The child should also be an active participant in this effort.

The child should be educated to know their food intake portions and requirements for their main meals and snacks and they may not need any extra calories or additional portions, said Rozanna. Rozanna highly recommends using the age-appropriate sectional plates (e.g. suku-suku separuh) to educate children regarding the food portions for main meals and measuring cups for snacks/beverages.

According to Rozanna, this role-modeling and education always begins at home, specifically at the dining table.

"Parents should try to eat with their children, not separately or separate meals and when you want your child to eat their fresh vegetables or fruits, parents must show by role-modelling that they love their fresh vegetables or fruits too," said Rozanna Rozana.

Parents can also teach their children the importance of eating a variety of different food and different raw ingredients for preparation/cooking by taking them to supermarkets/wet markets/pasar tani/pasar malam for food grocery shopping.

"The child does not know that processed foods or frozen hotdog/sausage/nugget's nutritional benefits are not the same as eating the real meat, so the parents should inform and educate the child regarding the harmful effects of excessive or daily consumption to their health.

"Entice them with the colours of real foods, such as papayas oranges, apples, carrots, tomatoes and enlighten them about the nutritional and health benefits of these foods," Rozanna recommended.

For more information or tips on diet and recipe ideas for children according to age including appropriate calorie, protein and other essential nutrient intake and requirements, parents can refer to the Malaysian Dietitians' Association and Nutrition Society of Malaysia websites: https://www.dietitians.org.my/, http://www.mynutribaby.org.my/ and http://www.nutriweb.org.my/.

-- BERNAMA




For more information click here