Visibility of KL Tower, Petronas Twin Towers blocked by haze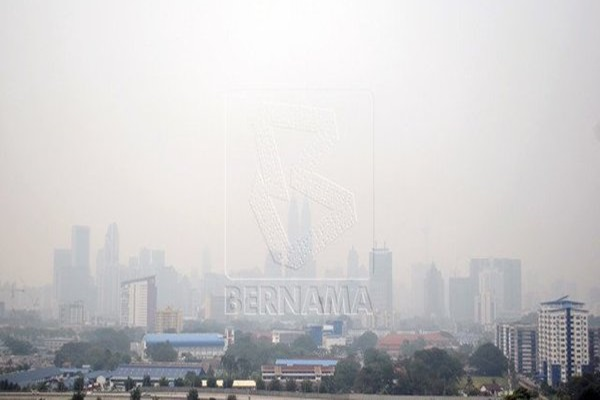 KUALA LUMPUR, Sept 11 -- Tourists in the federal capital were left disappointed as the most popular landmarks in the federal capital were not very visible for taking pictures as at noon today following low air quality due to the haze phenomenon.

The view from Wisma Bernama found the tallest structures in the country, KL Tower and Petronas Twin Towers located about three kilometres and six kilometers away were not visible at all.

The observation also found the air quality and visibility at noon were limited compared to the morning as the haze worsened towards the afternoon.

It was also observed that many people were wearing masks when going outdoor.

In fact, sundry shops and convenient stalls have started placing masks at the counter to facilitate consumers buy the breathing protection aid.

Based on the Air Pollutant Index (API) displayed on the Department of Environment portal, two areas in Kuala Lumpur recorded unhealthy API reading namely Batu Muda (136) and Cheras (139) while the reading for Putrajaya was 153.

A reading of between 0 to 50 is categorised as good, 51 to 100 (moderate), 101 to 200 (unhealthy), 201 to 300 (very unhealthy) and above 300 (hazardous).

Meanwhile in Selangor, six areas have unhealthy air quality at 7 am this morning.

According to the DOE website, the API reading at Shah Alam was 133, Klang 121, Banting (120), Johan Setia Klang (158), Petaling Jaya (135) and Kuala Selangor (106).

In Perak, Seri Manjung in Lumut was the first area in the state to record unhealthy air quality at 10 am this morning.

According to DOE website, the API in Seri Manjung was 123.

In Negeri Sembilan, Nilai, Seremban and Port Dickson which recorded unhealthy API since last night have higher API today.

According to the API Management System (APIMS), the API reading as at 10 am in Nilai was 155 compared to 152 on Tuesday, Seremban 129 (121 on Tuesday) while Port Dickson was 113 (105 on Tuesday).

In Sarawak, as at 8 am, only three areas in the state recorded unhealthy air quality with API reading under 200 namely Sri Aman (170), Kuching (156) and Samarahan (140).

Ten more areas recorded moderate API are Sibu (80), S.K Baram (73) , Mukah (78), Miri (74), Bintulu (85), Samalaju (78), Kapit (67), Limbang (55), Sarikei (75) and ILP Miri (74).

All schools in nine districts in Sarawak which were closed yesterday due to haze, have reopened as usual today.

-- BERNAMA