Wear the right face mask during haze - Selangor Health Dept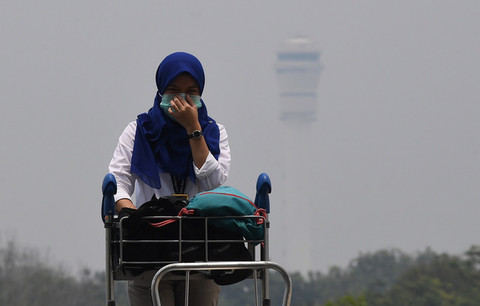 SHAH ALAM, Sept 11 -- Members of the public, especially children, senior citizens and those with respiratory problems, are advised to wear the right type of face masks as a form of protection from the worsening haze currently enveloping parts of the country.

Selangor health director Datuk Dr Khalid Ibrahim said two types of face mask being sold in the market were the surgical mask, and the N95.

"The particle size for the haze we are breathing in now is 2.5 microns and the most suitable face mask for this is the surgical mask.

"Apart from wearing face masks outdoors, we are also advised to drink at least eight glasses of water, and wash our hands with soap and clean water after being involved in outdoor activity. Physical activity outdoors should also be reduced," he said when contacted by Bernama here today.

Checks in Shah Alam showed that pharmacies are reporting brisk sale of face masks in the past few days.

At these pharmacies, the face masks were being displayed in areas easily noticed by customers, such as at the paying counters or arranged near the entrance.

Checks also showed that surgical masks were being sold between RM3.80 to RM4 for a pack of 10 pieces.

Meanwhile, the Selangor Domestic Trade and Consumer Affairs Ministry has warned traders not to take advantage of the current hazy conditions by indiscriminately raising the price of five types of face masks, which are categorised as a controlled item.

Those caught doing so risk facing action under the Price Control and Anti- Profiteering Act 2011.

The five types of face masks are the single ply (ear loop) face mask (medical/surgical), the two-ply (ear loop) face mask (medical/surgical), the three-ply (ear loop) face mask (medical/surgical), the three-ply (tie on) face mask (medical/surgical) and the N95 face mask.

"Retailers are reminded that the N95 masks are to be sold at a retail price of RM6 per unit," he said.

Muhamad Zikril Azan added that all five types of face masks are subjected to the provisions under the Price Control and Anti- Profiteering Act 2011.

"Anyone who violates this act can have action taken against them, as with retailers who indiscriminately raise the price of other types of face masks as well," he said.

He said the the ministry has yet to receive any complaints of a hike in the price of face masks in Selangor, although he added that its enforcement division will be monitoring the situation closely.

Meanwhile, according to the Metrological Department website, the Air Pollutant Index (API) as of 2pm in Selangor showed unhealthy air quality in Shah Alam with an API of 145, Klang (137), Banting (133), Johan Setia, Klang (183), Petaling Jaya (142) and Kuala Selangor (133).

An API reading of between 0 and 50 is good; 51 to 100 (moderate); 101 to 200 (unhealthy); 201 to 300 (very unhealthy); and 301 and above is deemed hazardous.

-- BERNAMA