EXCLUSIVE
CMCO: Balancing health and economic aspects for people's sake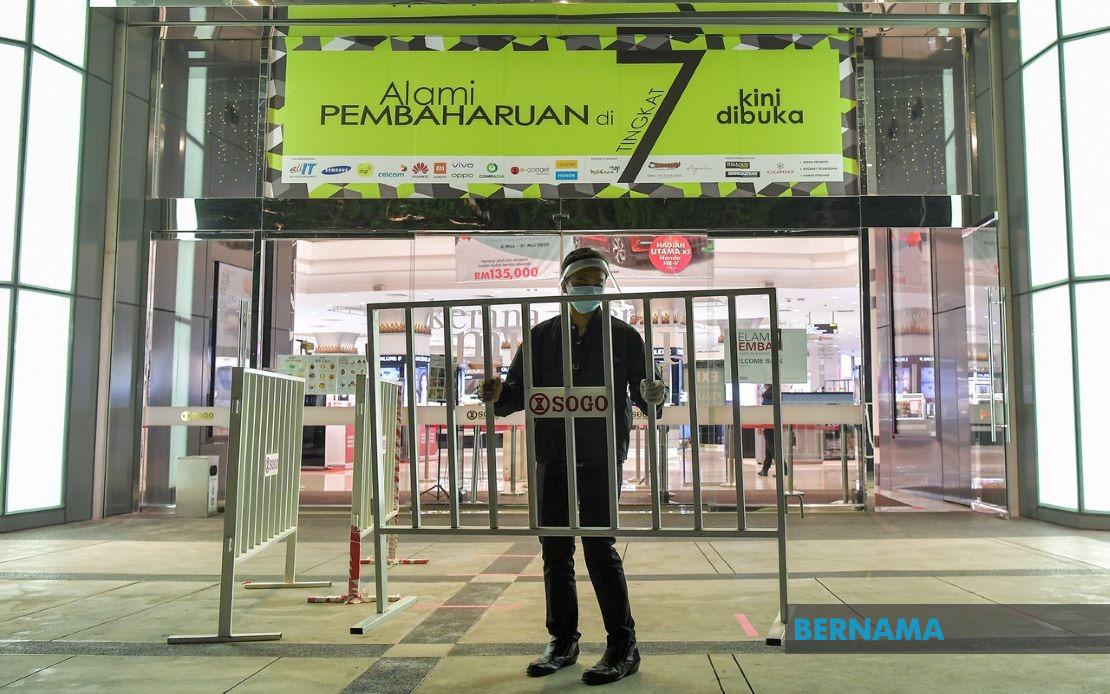 By Siti Baaqiah Mamat
KUALA LUMPUR, May 7 -- The decision by the government to implement the Conditional Movement Control Order (CMCO) by allowing almost all economic and social sectors to be reopened since Monday received various reaction from the public.
King hopes people work with new normal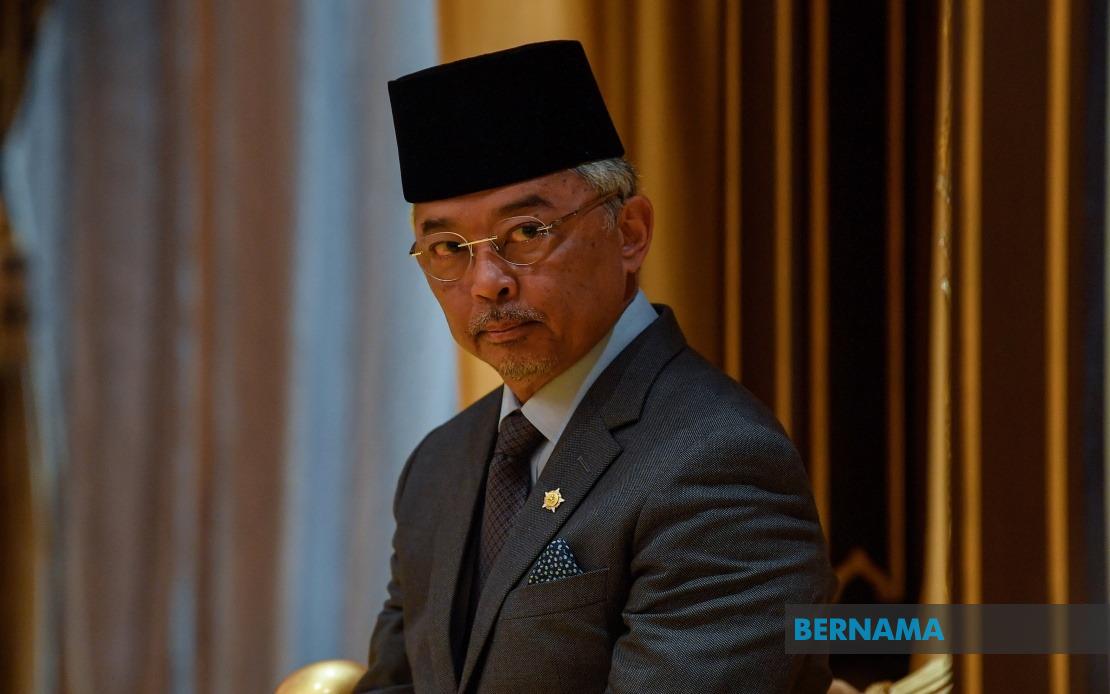 Kuala Lumpur, May 1 -- The Yang di-Pertuan Agong Al-Sultan Abdullah Ri'ayatuddin Al-Mustafa Billah Shah hopes that with all the uncertainties affecting the nation's workforce due to the COVID-19 pandemic, people will take cognizance that the world is now operating under a 'new normal'.
Rising Kidney Disease Trend Worrying, Say Experts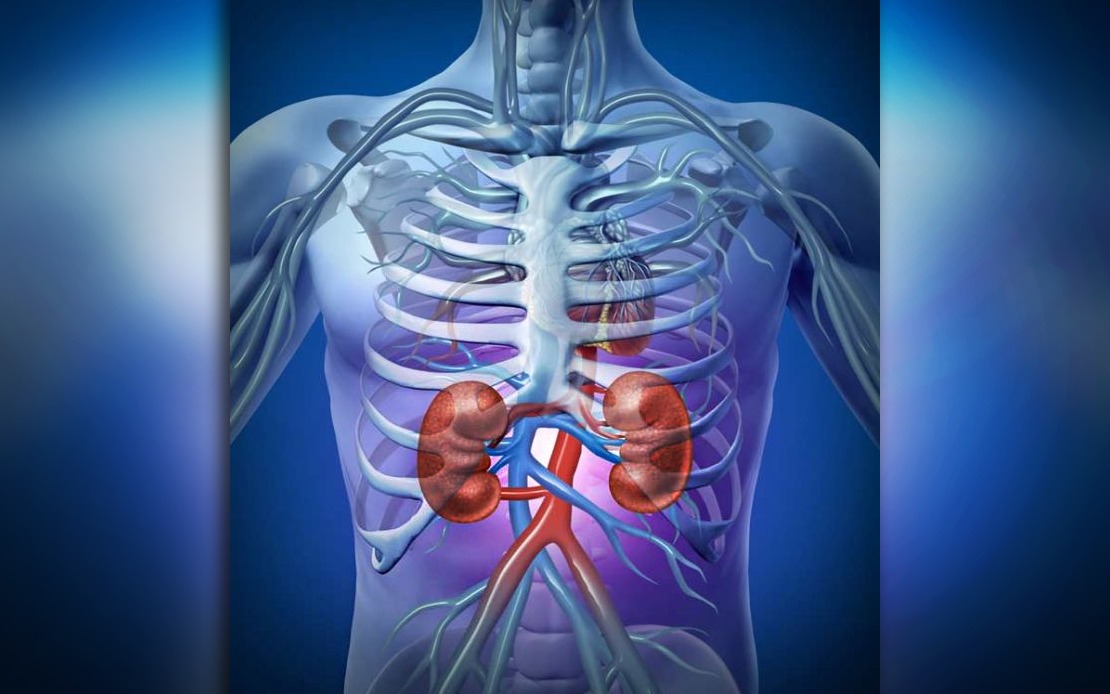 By Siti Radziah Hamzah
KUALA LUMPUR (Bernama) – Chronic Kidney Disease (CKD) is on the rise in Malaysia and it has become a public health concern to the government.
The prevalence of CKD has increased from 9.1 percent of the population, according to the Ministry of Health's 2011 National Health and Morbidity Survey, to 15.5 percent in 2018.
According to Universiti Malaya Specialist Centre (UMSC) primary care physician Prof Dr Khoo Ee Ming, the incidence and prevalence of treated end-stage kidney disease (ESKD) have also risen markedly over the last 25 years.
PCG Stands With Malaysia To Fight COVID-19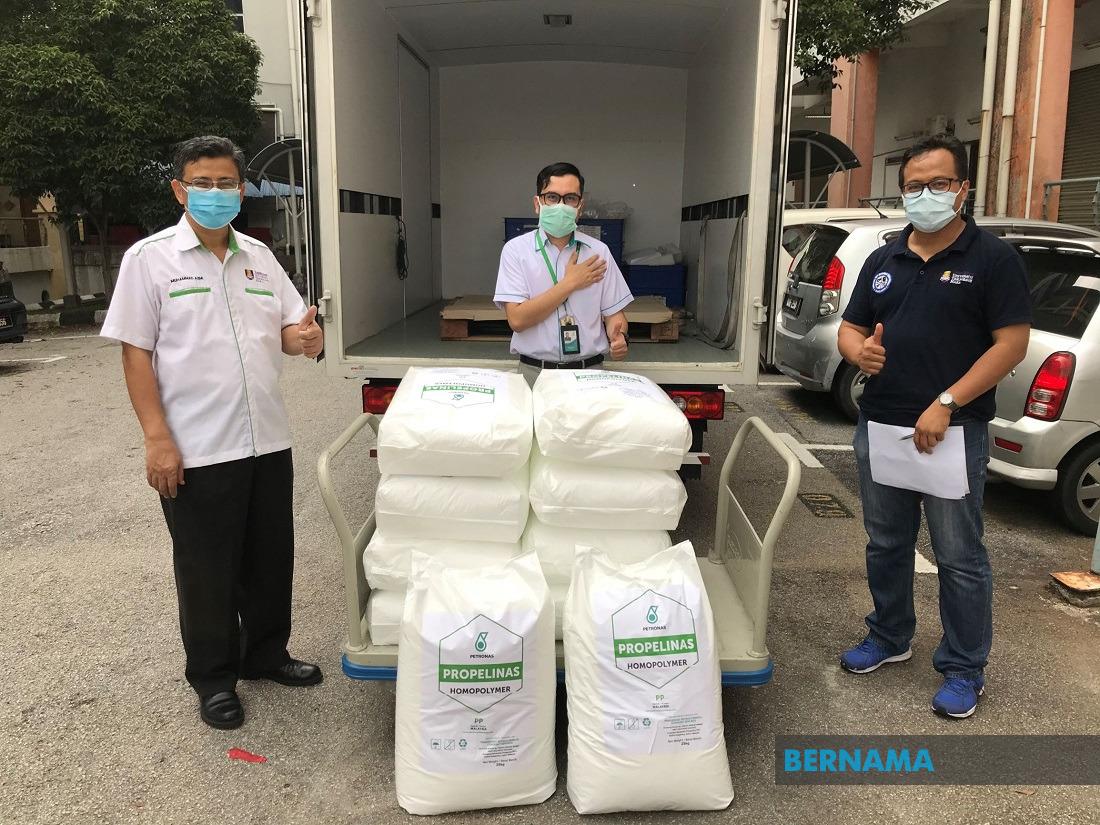 KUALA LUMPUR, April 14 (Bernama) -- In supporting the country to combat the COVID-19 pandemic, PETRONAS Chemicals Group Berhad (PCG) is contributing its products and essential items as part of its PCG COVID-19 Relief Programme.
PCG delivered its product, a raw material called Polypropylene (PP), to the Faculty of Mechanical Engineering, Universiti Teknologi MARA (UiTM) and Advanced Technology Training Center (ADTEC), in Jerantut, Pahang, under the Manpower Department of the Human Resource Ministry. This raw material is used for the production of face shield frames to support local medical teams, including front liners and others in need. The contribution will enable UiTM and ADTEC to collectively produce more than 100,000 face shield frames, to be supplied to government hospitals and clinics nationwide.
Muhyiddin shares with ASEAN Malaysia's experience in fighting COVID-19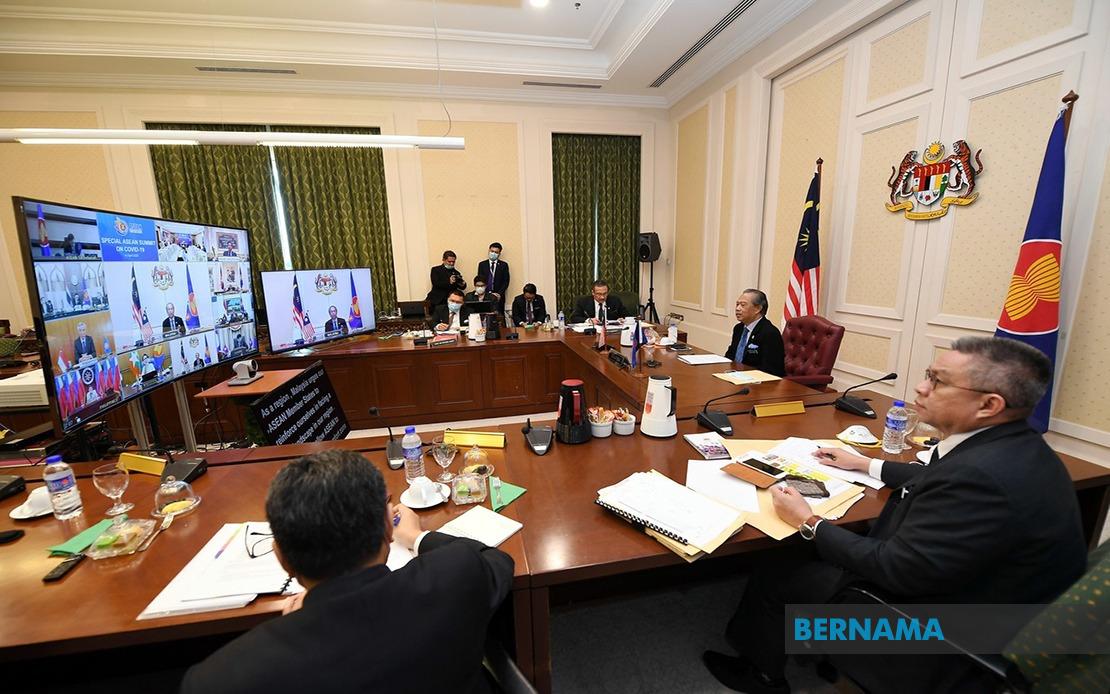 KUALA LUMPUR, April 14 -- Malaysia today shared its own experiences and knowledge in facing the COVID-19 pandemic with ASEAN member states during a Special ASEAN Summit on COVID-19 conducted via video-teleconferencing.
UMSC's Interdisciplinary Approach To Easing Pain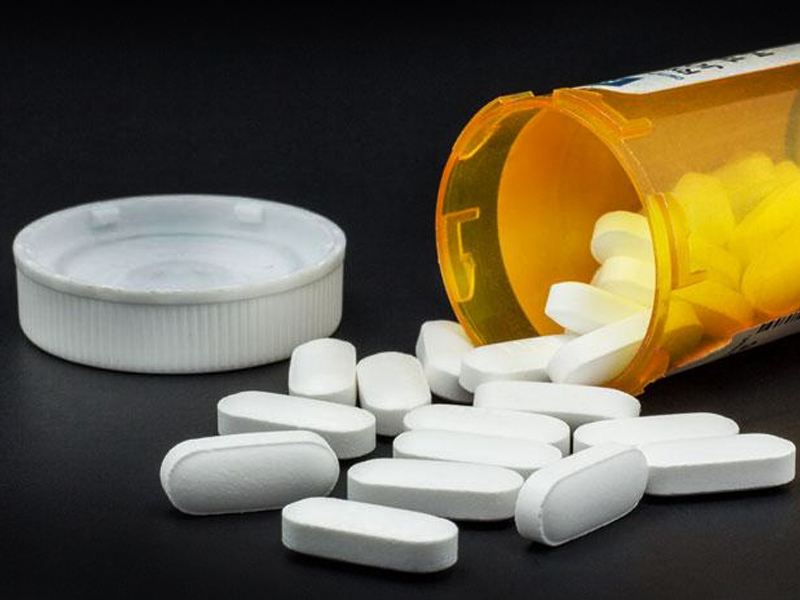 By Ainul Huda Mohamed Saaid
KUALA LUMPUR (Bernama) -- For people suffering from chronic pain, even simple daily activities like taking a shower and getting dressed can be a torture. Anger, anxiety and even depression may ensue as a result of chronic pain, in view of the limitations they face and the debilitating nature of their condition.
In an exclusive interview with Bernama recently, experts from UM Specialist Centre (UMSC) shed light on pain management, a significant branch in medicine that utilises an interdisciplinary approach in easing the suffering and improving the quality of life of those living with pain.
Neurosurgery expert Dr Nor Faizal Ahmad Bahuri describes pain as an unpleasant sensation that can be felt whenever there is a tissue injury.
Achy, Creaky Joint Pain In The Elderly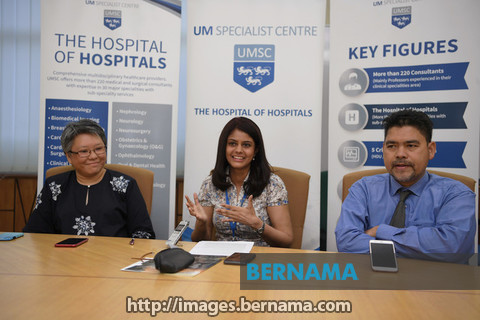 By Nabilah Saleh
KUALA LUMPUR (Bernama) – Osteoarthritis (OA) is the most common form of arthritis and seen increasing due to population ageing.
The disease occurs when the cartilage protecting the ends of bones wears down over time.
Although osteoarthritis can damage any joint, the disorder commonly affects joints in the knees, ankles, hips, spine, hands and shoulders.
Childhood Obesity A Growing Health Crisis In Malaysia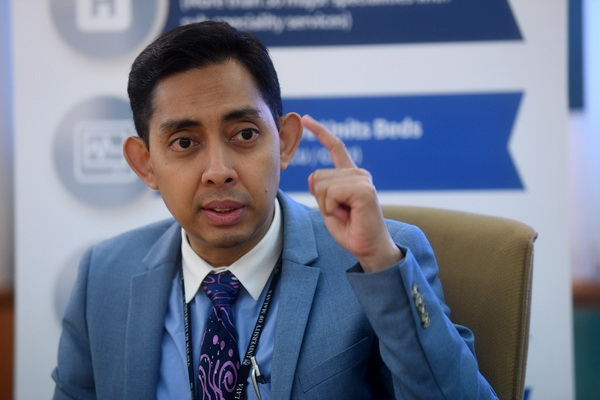 By Jenny Imanina Lanong Abdullah and Murni Nasri
KUALA LUMPUR, (Bernama) -- Farhan (not his real name) was sent to a private hospital by his parents to seek treatment for the infection on his right leg.
VATS & SBRT: The Future Of Lung Cancer Treatment In UMSC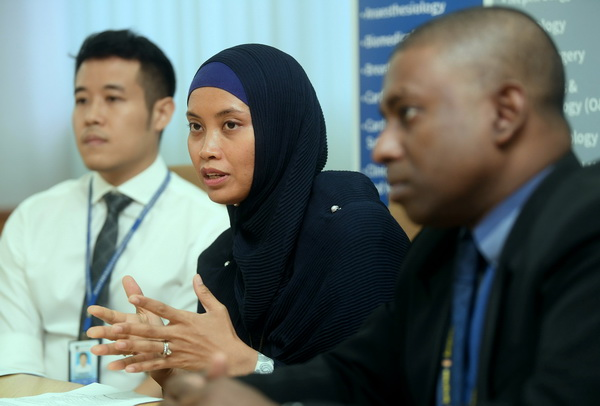 By Jenny Imanina Lanong Abdullah and Murni Nasri
This is the second of a two-part article on lung cancer treatment.
KUALA LUMPUR, (Bernama) -- Traditionally, surgery for lung cancer is done via a thoracotomy, which requires the cutting of muscles and spreading of the ribs before entering the chest to remove the cancer.
UMSC's Multidisciplinary Team-Based Approach On Lung Cancer Gives Hope To Patients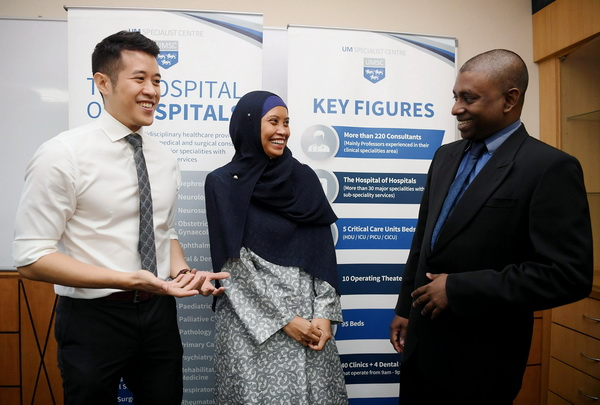 (First of a two-part interview)
By Jenny Imanina Lanong Abdullah and Murni Nasri
KUALA LUMPUR, (Bernama) -- 'Along' was six when her grandfather was diagnosed with stage four lung cancer. "I was so worried that 'Atuk' (grandfather) would die soon, even though I did not know what cancer was back then," said Along.