SEARCH News
Please select news category and type keyword(s) to search
Kanser Payudara: Periksa Sendiri Untuk Kesan Awal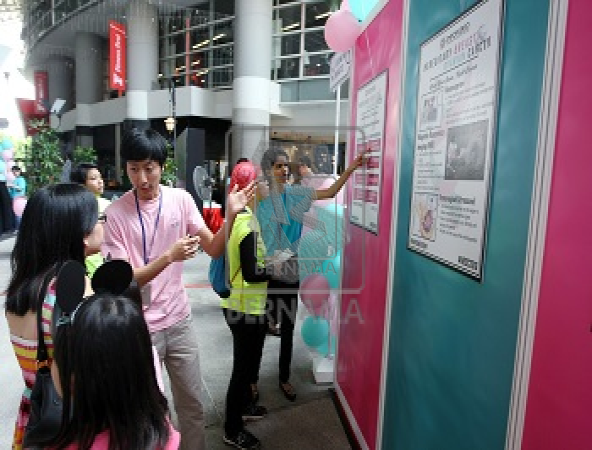 Oleh Ainul Huda Mohamed Saaid
KUALA LUMPUR (Bernama) -- Hasil rawatan akan lebih positif sekiranya kanser payudara dapat dikesan lebih awal.
Malangnya, menurut Persatuan Kanser Kebangsaan Malaysia (NCSM), 43 peratus kes kanser payudara hanya dikesan apabila ia sudah mencapai peringkat akhir, iaitu ketiga dan keempat.
"Perkara ini amat dikesalkan kerana kanser payudara boleh dirawat dan mempunyai hasil yang positif sekiranya dikesan lebih awal.
"Kami ingin menggesa kaum wanita supaya sedar akan hakikat ini dan proaktif dalam mendapatkan nasihat perubatan sekiranya mereka mendapati sebarang perubahan (di atas payudara), " pengarah perubatan NCSM, Dr M. Murallitharan memberitahu Bernama baru-baru ini.
Kanser payudara adalah kanser paling utama menyerang wanita di seluruh dunia. Di Malaysia, seorang daripada 30 orang wanita berisiko untuk mendapat penyakit ini.
Breast self-checks vital to detect cancer early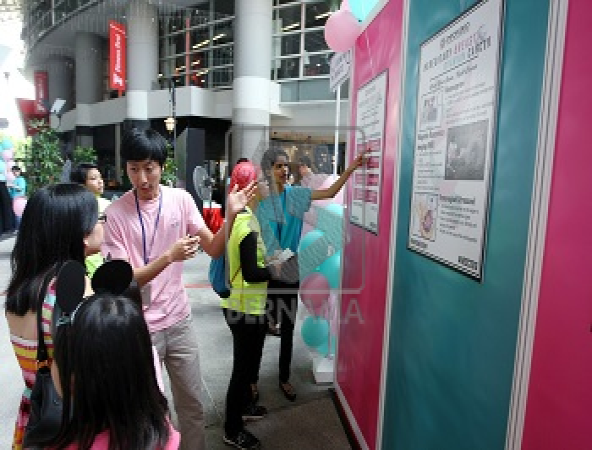 By Ainul Huda Mohamed Saaid
KUALA LUMPUR (Bernama) -- Early detection of breast cancer is crucial in enhancing positive outcomes from treatment.
Unfortunately, according to National Cancer Society Malaysia (NCSM), 43 percent of breast cancer cases in this country are only discovered when in the late stages, namely the third and fourth stages.
"This is unfortunate because breast cancer is highly treatable if detected early.
"We urge our women to be aware and be proactive in seeking medical advice if they find any abnormalities (on their breast)," NCSM medical director Dr M. Murallitharan told Bernama recently.
Breast cancer is the top cancer afflicting women worldwide. In Malaysia, one in every 30 women is at risk of this disease.
KKM awaits Finance Ministry, KPDNHEP feedback on raising consultation fee 
It is proposing to raise charges to between RM35 and RM125 from the present rate of RM10 and RM35 which has not been reviewed for almost 12 years.
Unregistered vaccines, tablets for abortion seized
The products seized are Bio Typh Typhoid Polysaccharide Vaccine, Tetanus Vaccine and Cytolog Misoprostol tablets. Initial investigation found the vaccines were sold directly by locals to clinics in the Klang Valley
Docs can take unrecorded leave to serve in Sulawesi - Dr Dzulkefly
We are giving permission to our doctors who are under the Health Ministry and Education Ministry (doctors at university hospitals) to take unrecorded leave to be of service to the people there.
Vaksin, misoprostol untuk pengguguran dari India dirampas
KUALA LUMPUR, 4 Okt (Bernama) -- Kementerian Kesihatan merampas dua jenis produk vaksin dan Misoprostol tidak berdaftar dari India yang dipercayai dijual di pasaran gelap untuk pengguguran haram.
Healthcare in Malaysia on the cusp of change
Buoyed by the demands and aspirations of the electrical and electronics (E&E) industry in healthcare, we strongly believe that digital healthcare innovations are at the heart of addressing the healthcare challenges faced by our country today.
Crest, KKM jalin kerjasama segmen digital
KUALA LUMPUR, 4 Okt (Bernama) -- Pusat Penyelidikan Kolaborasi Kejuruteraan, Sains dan Teknologi (CREST) dan Kementerian Kesihatan Malaysia (KKM) menandatangani Memorandum Persefahaman (MoU) untuk kerjasama dalam penyelidikan, pembangunan dan pengkomersialan dalam bidang penjagaan kesihatan digital.
Dua pesakit kanser berhajat ke Langkawi
BUTTERWORTH, 4 Okt (Bernama) -- Dua pesakit kanser hari ini menyatakan hasrat untuk melancong ke Pulau Langkawi, Kedah sebagai permintaan terakhir mereka.
LIAM generates health awareness via Nationwide Campaign
The ongoing Health Awareness & Nationwide Blood Donation Campaign 2018, organised by the Life Insurance Association of Malaysia (LIAM), is more than just a place for the public to donate their blood.